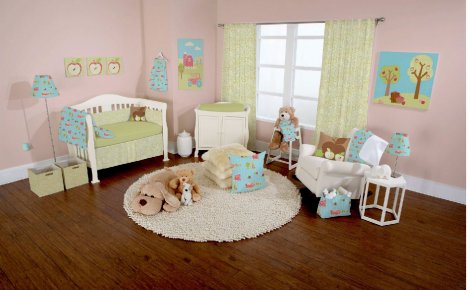 How to Keep Your Nursery Clean


Every mother wants her little one's nursery to be safe, beautiful and clean, but keeping it that way can be harder than you might imagine. Your precious newborn baby may be little, but as any seasoned parent will tell you, little babies are experts when it comes to making really big messes. To keep your nursery sparkling clean, it's best to have a plan.

Banish germs and stay on top of nursery grime by following these six helpful steps:

1. Identify germ-harboring "hot spots," and clean them every day.
Frequently touched surfaces, like door handles and crib rails, and other areas that see more than their fair share of yuck, such as changing tables and laundry hampers, provide an excellent breeding ground for germs and bacteria. These "hot spots" should be disinfected on a daily basis to prevent germs from spreading around the nursery and the home.

2. Create a sanitation station.

Keep nursery germs in check by storing sanitation supplies at an arms reach and cleaning up as you go. Set up a tray on or near your changing table with antibacterial gel and paper towels. Cleaning your hands before you ever leave the changing table will protect your baby from germs and prevent you from contaminating other surfaces.

Before you leave the room, give the changing area a quick once-over with a convenient, safety-approved disinfectant wipe. (Clorox Disinfectant Wipes are EPA approved and work well.) Be sure to keep all cleaning supplies out of your little one's reach, and clearly mark disinfectant wipes, so they are never mistaken for baby wipes.

3. Have a plan for dirty diapers and heavily soiled laundry.

A good diaper disposal system, such as a Diaper Genie, is a nursery must-have. These specially designed diaper pails seal in odor and germs, ensuring your nursery remains sweet smelling and germ-free. Thanks to a handy foot pedal and a sturdy, refillable plastic lining, dirty diapers never even touch the diaper pail itself, preventing any additional mess.

Keeping a separate hamper for heavily soiled laundry can also prevent contamination. Very dirty items, such as soiled sheets or clothing, should be washed separately in very hot water as bacteria from bodily fluids can spread to other items in the wash. Be sure to clean the hamper itself on a regular basis.

4. Change crib bedding at least once a week.

Chances are, you're already changing your little one's sheets more often than you'd like. (Gotta love those 3am diaper blowouts, right?) Still, you'll want to make sure your baby's bedding gets changed at least once a week, even if it seems clean. Drool and minor diaper leaks can cause bacteria to grow in your baby's crib that may go unnoticed for some time. Dust and dirt particles can also settle on bedding, leading to skin irritation and allergies.

5. Sanitize toys regularly.

Since babies explore their world with their mouths, it's important to sanitize your little one's favorite toys once a week. Wipe each toy down with an EPA-approved disinfectant, and then rinse them with water or a wet cloth.

6. Keep floors clean.

Babies spend much of their time on the floor, which means regular cleaning of floors and carpets is vital. This is especially true of carpet, which can quickly become a reservoir for dust mites and mold. If your nursery is carpeted, vacuum twice a week using a vacuum that has a HEPA filter. These specially designed filters trap dust particles, pet dander and other allergens, preventing them from being redistributed into the air.